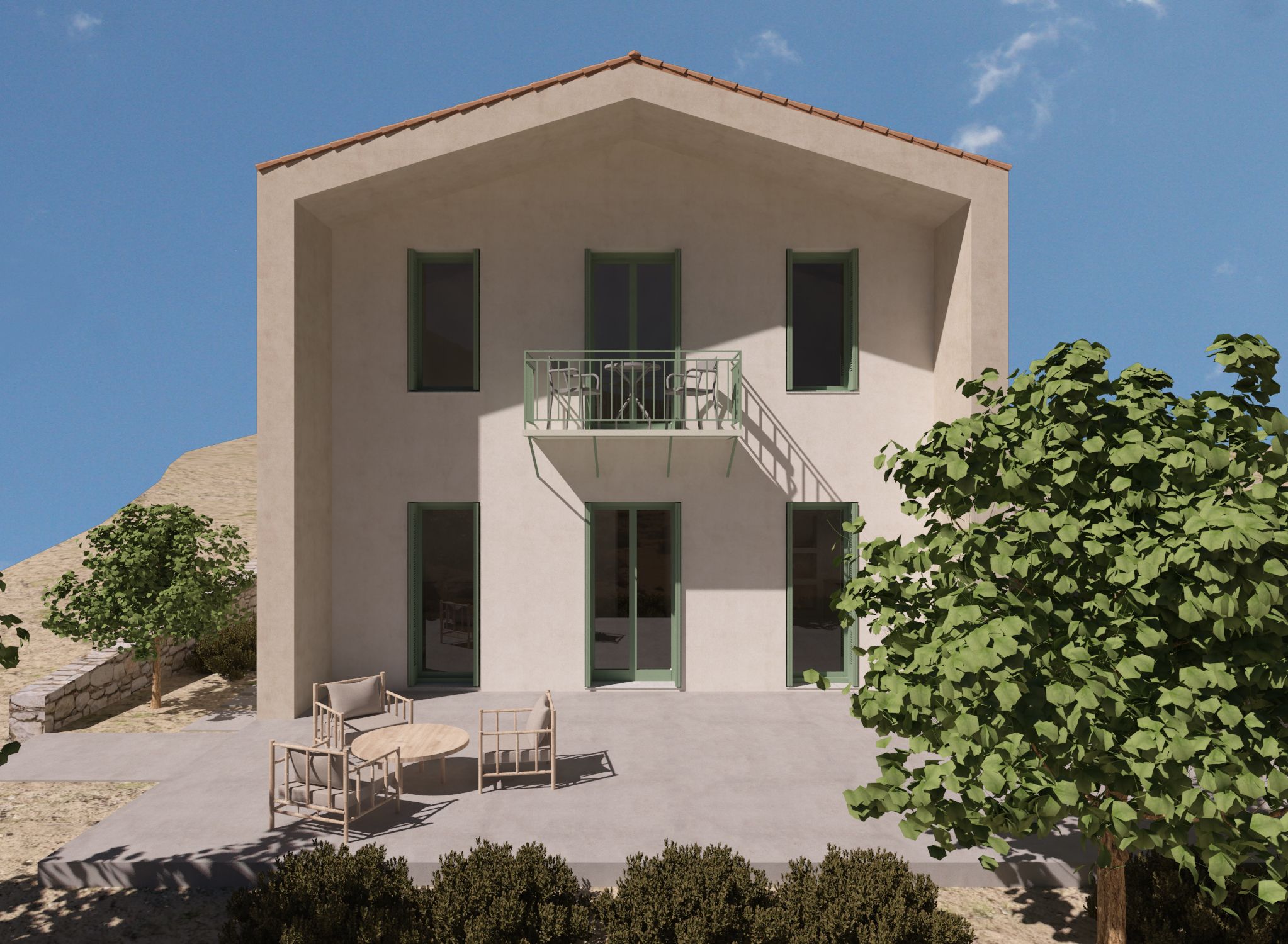 Ν&Ο – A PITCHED ROOF HOUSE
type: Residence
location: Methoni_Peloponnese
surface: 100 sq.m.
status: design
design: C-O lab (Olga Ktenà, Elisavet Kazerou)
This is a new two-story house in Methoni. A key element taken into account in the design is the integration of the building into the traditional settlement of Methoni. After an on-site study on the character of the settlement and the morphological characteristics of the buildings, as well as a parallel bibliographic approach to the history and architectural tradition of the place, a framework of morphological elements was formed in which it was deemed necessary to integrate the building into the traditional architecture.
More specifically, the clear shape of the proposed floor plan, the solid and uniform face and the tiled roof follow the compact and austere buildings of the settlement. In an effort to redefine the above shape and in order to meet functional requirements, we interpreted a new the traditional typology by extending the roof and creating overhangs. This creates a transitional covered space on the west side of the building, which serves as the entrance, allowing a smooth transition from the outside to the inside and vice versa. In the same direction, the ledge on the east side protects both the balcony and the interior of the house from direct sunlight.
The management of the facades was largely based on the traditional architecture of Methoni. The basic view with the balcony is perfectly symmetrical and approaches the proportions of a square, with many openings and a ratio of empty-full approaching 1: 1. The face is coated with colored finishing in two different shades. The frame that forms the eaves is painted dark beige, whereas the recesses of the building are light beige. The roof is of a saddle type covered with tiles. The balcony, symmetrically placed in the facade, follows the dimensions of the cantilevers found in traditional buildings.